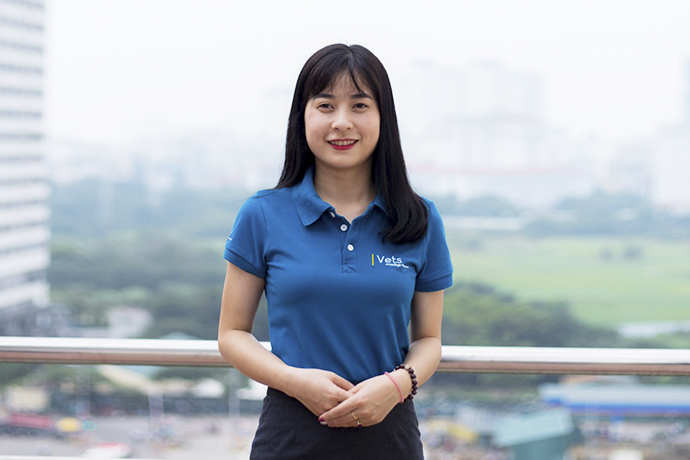 Who am I?
I graduated with a major in Electrical Systems from the Electric Power University. After many years working in the Electrical sector in Moc Chau town – where I was born and raised. I decided to go to Hanoi to find new career opportunities. By research, I knew Vets | Energy and chose this workplace with the desire to devote myself to development and long-term attachment
How I make a difference
I am a person of principle. For me, everything has to be done precisely and perfectly. From documents to energy audit reports, I want to ensure maximum quality before to customer. Anyone often says I'm "difficult" but they always trust deliverables by I checked. Bringing true values is my commitment to customers is my choice.
Conformity of values
Carefulness, agility, and ingenuity have helped me a lot in my work. Especially, in the field of training on energy efficiency in Vietnam, when trainees attend Vets | Energy's courses are all seniors and seniors much older than me. With all the Energy Management and Energy Auditor training courses that I am in charge of, I ensure 100% of the trainees are certified and become key members at the enterprises. I feel proud that I have contributed a lot to the sustainable development in my country.
Career
In Vets | Energy, I am free to express my personality and explore new potential, challenge myself in my work. My partners are the Ministry of Industry and Trade, the Department of Industry and Trade, and associations, enterprises that make me act with extreme caution. The complex nature of work and a lot of work, has helped me to forge my bravery, learn, gain a lot of experience and become more confident to bring better results.
Work-life balance
Become a member of Vets | Energy was not only the best choice in my career, but also helped me find my small family that is a great source of motivation to achieve my dreams
I like to color and take care of the house in my spare time. It is also an effective solution to help me dispel the daily stress.