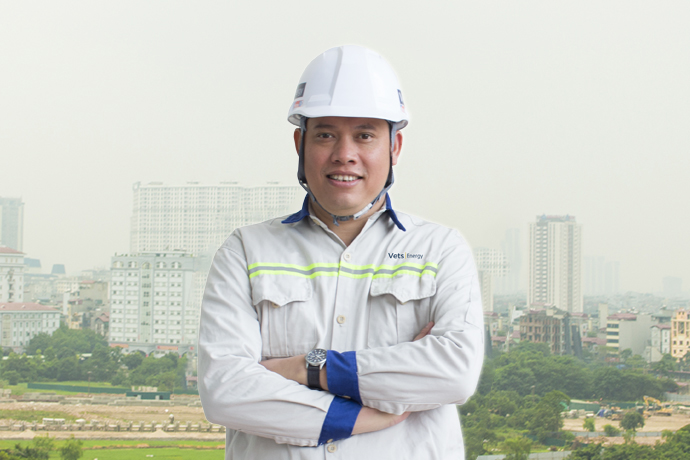 Who I am
In 2006, I graduated from Thai Nguyen University of Technology with a degree in Electrical Engineering. After graduating from school, I worked at Eurolight Co., Ltd, the job is not close to my training major, but it helped me accumulate more experience in soft skills as well as engineering expertise in the lighting field. In 2019, I had access to the concept of Energy Audit; I found out it's a technical field that I love and want to learn. I have decided to change jobs after 13 years of attachment. In April 2019, I joined Vets | Energy with the desire to work in a professional environment, with a job that I love.
How I make a difference
In the energy audit job that I am pursuing, my tasks are to perform the measurement and assessment of the operating status of the equipment line system at industrial production facilities, factories, and buildings. Here, I survey the operational process, determine energy consumption, understand the current state of energy consumption, evaluate the energy management system, identify areas where the use of energy appropriately.
My Journey at Vets | Energy
When I joined Vets | Energy, it is surprising for me that a collective with 2/3 was very young,  passionate and enthusiastic members. Our team is very united and creative; we always complement each other's limitations. Young people instilled in me more passion, on the contrary, I imparted to them my own experience in the profession.
With the trust of the Board of Directors, I was appointed to the position of Technical Manager. I built a strong, experienced and passionate technical team. We are passionate about working together for a common goal and supporting each other.
The most important reason I choose Vets | Energy to build a career is that this place nurtured me in many values ​​materially and spiritually. Here I live and work hard for my passion. I love Vets | Energy, and I am proud to be a part of Vets | Energy.
Interesting facts
I enjoy working here, where there is a Board of Directors who know how to listen to the thoughts and aspirations of employees in both work and private life—working with young colleagues full of passion and enthusiasm at work.